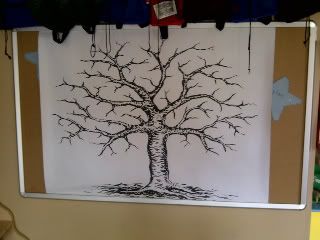 This project is sponsored by Richmond Children First. They are in the process of creating a Charter of Children's Rights for Richmond Children which will be presented to Richmond City Council.
My Buddies and I, and their parents have just begun an art project. We have been given a large black and white picture of a tree. I have posted the picture on the bulletin board, and introduced it to a small group of children. We talked about the things we want and the things we need and we talked about the differences between those things. The pictures of things the kids might want or need are displayed alongside the tree.
Since summer is holiday time, attendance can be unpredictable and we are doing parts of the project with different kids at different times but we are including everyBUDDY in this project, moms, dads, kids, big and little brothers and sisters, and the daycare lady, too!
I posted the UN Convention of Children's Rights on our door and sent out an email explaining the project to my buddies' parents. I placed the pictures of "wants and needs" in each child's mailbox to go home. Every parent was encouraged to discuss wants and needs with their children and to have them colour and choose 2 of the pictures.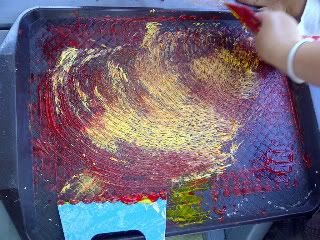 We began colouring the leaves. The children chose different colours of paint and spread them on a plastic tray. They used spreaders to create patterns and mix colours on the tray. One of our big buddies showed us how it was done.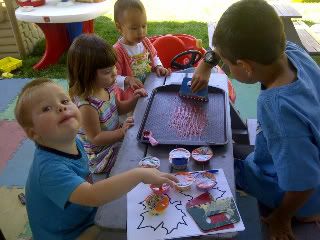 When my buddy was happy with the pattern and mix of paint, we took the sheet of paper leaves and pressed it into the colour. They all looked so beautiful hanging on the fence to dry!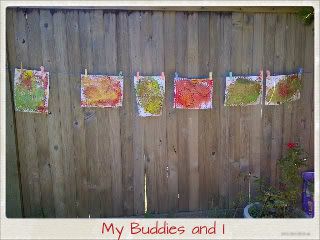 We wanted to put some colour on the background of our tree. Our big buddies took over this big job. Hanging the big picture of the tree sideways on the fence, they took spray bottles of pink and blue paint and sprayed spots of colour onto the paper.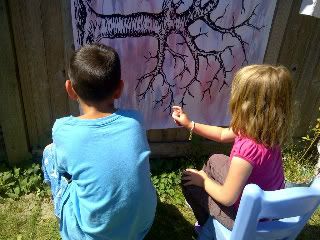 We decided to put some extra coloured leaves at the base of the tree. We used the extra painted paper from the maple leaf cut-outs. Then we added tissue paper maple leaves to the base of the tree as well.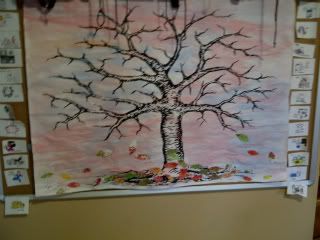 Some of the kids had not had a chance to colour their pictures at home so I gave them the time and materials to finish them.
We still had some extra maple leaves and we thought they would look pretty with a tissue paper collage effect.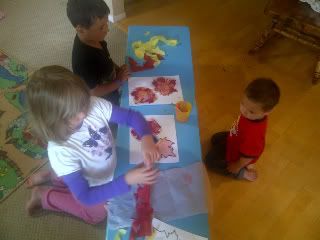 I put the leaves that they had made onto the tree. Then I told them that it was time to add the "magic" to the tree. I had spread some glue around the tree. We brought it outside and I gave the children a handful of glitter. As they threw the glitter
we made a wish that all children could have the things they had put on their leaves.
(The glitter did not photograph so I took the liberty of adding sparkles to the digital image. The image will be as the children remember it rather than how my camera captured it.)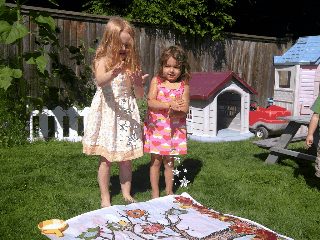 Our final touch was to add a frame to our work. I had cut and folded strips of paper and taped them down to our bench. I added some paint blobs and tools and let them go!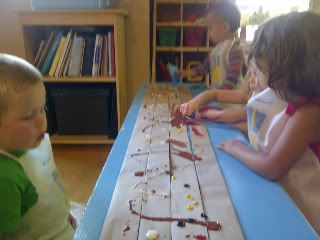 It started out with quite a few colours but soon ended up as just one!
Most of the kids used the scraping tools and brushes, others took a more "hands on" approach.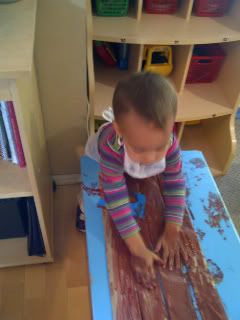 Finally, I cut and attached the frame to complete the project!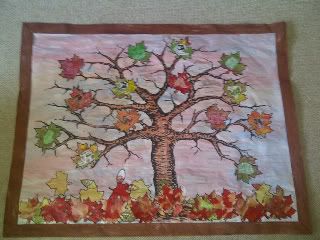 Thank you to My Buddies who helped with this project. Thank you to Dylan and Sydney; to Dustin, Shyiera and Alyssa; and to Addisyn, Landen, Korah, Natalie and Daimon. Thank you each and everyone for your contribution, big or small, and thank you to your parents for their help with this project, too.

My Wish For My Buddies

My wish for you, my buddies,
Is that you would always have everything you need,
And that you would not always get everything that you want,
And I wish that you would understand, sooner in life, rather than later,
Why I would wish this for you .

My wish for you, my buddies
Is that the Richmond you grow up in is a better place
Than it was yesterday,but not as good a place as you will make it tomorrow.
And I wish that you would find joy and happiness in seeing your changes
Make Richmond into a better place.

My wish for you, my buddies
Is that you would enjoy good health, and happiness,
That when you need it, there would be help for you to stay that way.
I wish that you would grow strong and proud and smart
And that you would learn about what is important, and what is not.

All of these things I wish for you, and more.
With all my love,
Your buddy, the daycare lady.