I thought it would be cool to have an apron that I could easily adapt to whatever my buddies were learning at the moment. What could be better than a chalkboard for that purpose? I didn't have any chalkboard paint, but I have lots of acrylic paints. I thought I would give them a try. I was counting on the rough texture of the fabric to substitute for the texture created when using chalkboard paint on a smooth surface. I knew that I could write on the plain fabric with chalk, but I wanted it to stand out more.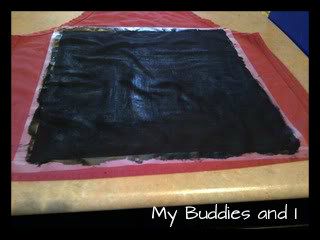 It was really easy to do this. I taped off the area I wanted to paint and then painted it. I made a large rectangular black chalkboard at the bottom of the apron and then a smaller green chalkboard at the top. I had to try out the chalk on the black as soon as it had dried. I love the way it stands out! After the paint dried, I threw it in the dryer for 15 minutes on high heat to set the paint.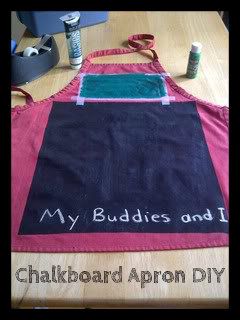 My buddies and I will use this apron to focus our learning. Whether we are learning a letter, or number or word, I can write it on the chalkboard and we can review it all day long. When we're done, I can throw the apron in the wash and start new!
Washed and ready for day 2!