Because my job is a messy one, I usually find myself wearing an apron. The aprons I have have been donated and aren't the most attractive, but they save my clothes from bleach, food and paint stains. They were, like the mat from my
word walk
, a blank slate. How could I make them more attactive and educational, too?
Here is what I did:
I took one of my aprons and traced some circles with a marker. I strategically placed some spots to cover stains on my apron, 'cause I am smart like that. I painted inside the circles white. I used paint I had on hand, it doesn't say it is for fabric, but I will take my chances. I put on about 3 coats of white acrylic paint.
When the white was dry, I painted each circle a different colour. Again, I just used whatever acrylic paint I had on hand. I'm not picky, and I am cheap - or trendily frugal.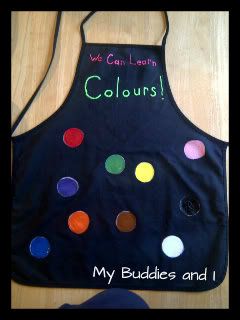 When I finished the colour spots, but before they were dry, I got impatient and wanted to add a title up at the top. I had a couple of tubes of actual fabric paint with tips for printing. So printing UPSIDE DOWN, I added "We Can Learn Colours!" As a recovering perfectionist, I think I did remarkably well. Notice that the word "colours" is on a bit of a slant? Yeah, my recovery from perfectionism is nearly complete.
(When the paint is completely dry, I will throw it in the dryer for about 15 minutes to set the paint.) There we have it! My clothes will stay clean and I can teach my buddies their colours, too!