There is a battle going on in my backyard. I'm not sure who is winning. I think it all started with those wonderful, fabulous "loose parts" that the child experts encouraged me to provide to my children because of their great educational value. They sure do love those parts. But those loose parts and my lawn mower are sworn enemies. So, to keep the peace in my backyard, before the lawn gets mowed, I get to go on a little treasure hunt; one made all the more challenging when the grass is a little long. If I'm lucky, and the timing is just right, I can get the kids involved. I mean, what's more fun than a treasure hunt????
Now, I admit I have a lot of loose parts in my yard. A lot! So, part of my solution is that my parts are not completely loose, they're only sorta loose. Loose enough that I know now and then one or two go home with a child, but they come back too, so that's all okay.
What I have tried to do in my yard is to create "centres" similar to how you might divide a classroom. The idea is that the loose parts within a centre, should, theoretically and preferrably, STAY within that centre. With one and two year olds, this is mostly theory and a whole bunch of practice!
One of the centres I have is a kitchen centre. This centre contains a little tikes kitchen, a large sand table, a shelf with bins of sand and kitchen toys, and a table which is sometimes accompanied by a big loose part that we would identify as a chair. Sometimes I add a water table to this area. The sand, and sometimes water is carried from sand table, to kitchen, to table, with generous amounts of spilling. It's a mess but the play value outweighs the effort to keep it clean. Plus, I've added brooms and dust pans and I'm brainwashing the kids to think that sweeping is about as much fun as you can possibly have.
Another centre in my yard is under a covered patio. This area has a washable foam square floor, an art table for four kids, and two big shelves. The shelves hold a lot of loose parts and supplies. Colouring books, markers mostly unaccompanied by their "loose part" caps, crayons, bubbles, chalk, nature materials like drift wood, homemade branch blocks, pine cones, along with balls, bike helmets, and more pairs of rubber boots than I have children! A bird feeder hangs on one side of the patio, and a pulley has been installed along the edge. In the centre, I have a hook which has been used in a variety of ways.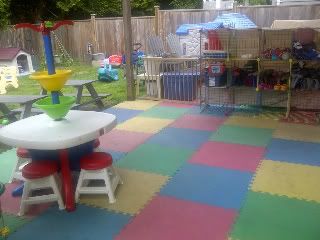 I was inspired by the saying "it takes a village to raise a child" and have been building a village for my children. Currently I have 5 houses, lined up in an open "town square" formation. Two picnic tables sit in the middle of the town square. Ride on toys and wagons are parked in the driveways between the houses. And the houses themselves are used to contain - you guessed it - more loose parts! One house contains a cash register, shopping cart, little wagon and a bucket of plastic fruit and vegetables. Another house contains a variety of musical instruments, and another has just a bin of mixed toys like the ones you are given at fast food restaurants, about 28 years worth of toys from fast food restaurants. I think you get the picture!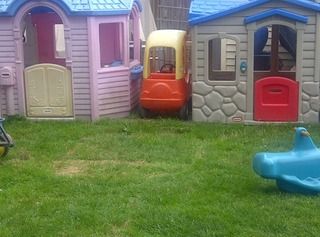 I also have a three sided art easel, next to the fence which is equipped with a clothesline and clothes pins for displaying art work.
The middle of the yard is your typical plasticville playground.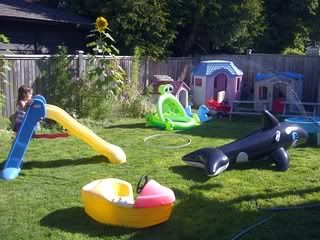 Ironically, I think these big peices, slides, teeter totters and such are the most fun for the kids to re-arrange. Nothing makes a kid feel more powerful than moving things that are bigger than he is! I don't mind, it gives the grass a break, which helps it grow better, which means I get to cut it more often, which means I get to go on another treasure hunt! Such is the life of the home child care provider!