Inspired by a wonderful lady who uses the title
Play at Home Mom
I had to try this for my buddies. I adapted a bit with materials, I used materials I had on hand, with a trip to the dollar store for the bag. I found what I thought was a perfect bag. Sturdy and large enough for group play. So I began.
I had some peach bubble bath that I knew I would never use. (Bottles of bath products mysteriously reproduce under my bathroom sink, I'm sure of it.) And, glitter, of course, I had glitter.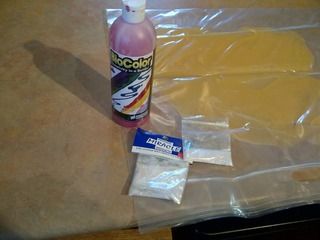 I wanted a more vibrant colour, so I added red biocolor paint, too.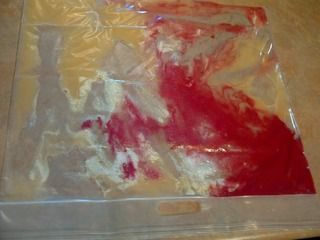 It looked really cool! I couldn't wait to share with my buddies, but before I did, I reinforced the edges with duct tape!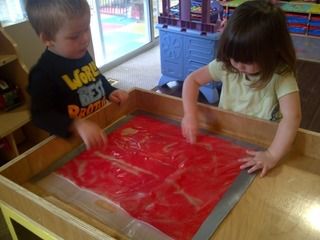 And I have to say, they really, really liked it. I wish I could stop and leave it at that, but that wouldn't be honest. Within 5 minutes, my buddies had used their nails to scrape holes through the plastic bag, even though it was heavy duty plastic. I was really disappointed, but I am determined to re-create a more durable version. Perhaps with heavier plastic and some type of adhesive to seal the edges? I already know the kids will enjoy it, it's just a matter of making it buddy-proof!