I never spend a lot of time worrying what to wear for work. Usually it's some comfy jeans and a shirt, and often I throw on an apron to keep my clothes clean-ish. I worry more about my buddies and how I can do my best to help them grow and learn.
One day while shopping, I came across a necklace filled with all kinds of dangling objects. Butterflies and ladybugs, hearts and beads and baubles! It caught MY interest because I knew my buddies would like it. They would espcially like the bugs!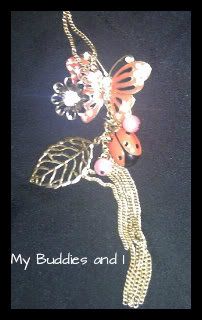 My buddies are keen observers and we had been informally studying bugs all spring and summer. I knew the necklace would spark a lot of interest, so I bought it.
My buddies LOVED it! They noticed it right away and I suddenly got a lot of attention - or at least my necklace did. With one and two year olds especially, it's nice to have something that draws their interest, holds their attention and works as a conversation starter. Several times a day, I would find myself naming the different objects on my necklace and then describing them. My buddies would come sit on my lap or stand beside me, handling each dangling object expectantly waiting for me to name it.
My buddies were so enchanted by my necklace that I had to go back to the store and buy a few different ones. My buddies and I love the ones that have a variety of dangling objects that can be handled. I am now the proud owner of a small collection of beads and baubles and I'm always on the lookout for necklaces that will go with our themes or current interests. I've even got my sister buying me jewellery now, too!