I was so excited that my bird books came in to the library! My buddies and I have been really enjoying all the recent bird activity in the backyard.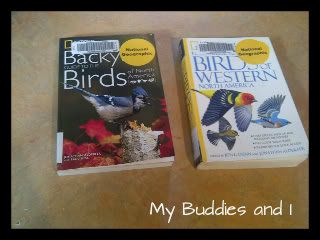 I am not one of those people who instantly recognizes and can name birds. I find it extremely difficult, in fact. But, still, I am trying to give my buddies information about the ones I DO know, and I am trying to learn about the ones I don't, hence the bird books were in order!
We started with a simple bird feeder and some bird seed. It didn't take long for the birds to find us. Whoever came up with the phrase "eats like a bird" has never seen the way birds eat! They can empty my feeder every day! I was excited to find that I can also give them some of my
kitchen scraps
. That will save me some bird seed, I'm sure.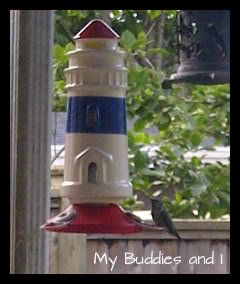 One day I noticed a hummingbird in the backyard and quickly added some nectar to our hummingbird feeder. (It had been sitting empty because we never had hummingbirds and I didn't want to risk having old nectar in it. I've been making my own
nectar
to save money there. Now my buddies and I get to see hummingbirds stop by the feeder even when we are out in the backyard.
We've been using binoculars, too. They haven't been necessary because the birdfeeder is near the window, but my buddies enjoy looking through them anyway. We made our own binoculars, too, using just strips of rolled and stapled poster board. My buddies decorated them with stickers and we put a ribbon strap to hold them. Ours were pretty simple, but you can find directions to make some pretty nice ones
here
.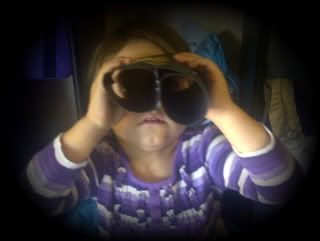 As I get better at identifying the birds in the backyard, I will be printing and posting some bird pictures with their names. I will laminate and post them either on or near the window so that we can all learn the different types of birds.
This post has been shared on
The Sunday Showcase
!