My buddies and I had a fabulous time today. What I had planned to be a simple craft became a wonderful activity that we will be able to do over and over again!
We started with a milk jug. And we were going to make a jack o' lantern. I put some red, white and yellow paint INSIDE the jug and put the lid on. I gave it to my buddies to shake. (We had to stop shaking to take the picture!)
I used biocolor paint and I considered adding some glue to make it adhere to the inside better BUT my buddies were enjoying the shaking so much, I decided I would rather keep it thinner and hope that it would keep running down the sides so they could keep shaking. I even added a big wooden bead to make the shaking more fun. I glued the cap onto the jug so I don't have a surprise paint explosion. My buddies were really using their muscles to get that paint all shook up.
At first we glued on a mouth and eyes...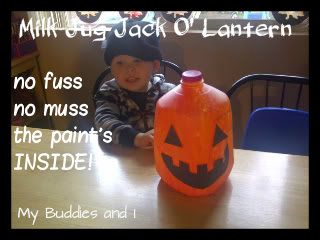 but when I realized my buddies were going to be playing with this jack o' lantern, I decided to make give it even more possibilities. I carefully removed the eyes and mouth and washed off the glue. Then I cut some more eyes and mouths and laminated all the pieces. I put velcro on the jug and on the pieces. Now my buddies can make and re-make Jack's face over and over!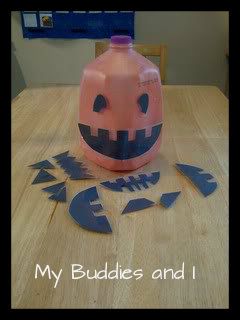 He's a shaky cross between a jack o'lantern and Mr. Potato Head!