'Tis the season NOT TO TOUCH! We fill our homes with decorations and displays and tell our children "Don't touch!" But children love to touch and feel things, to explore the things around them. So for my buddies, I try to counteract some of that a little bit. This year I created a gingerbread house that they can decorate, undecorate and redecorate as much as they would like! I started with a box.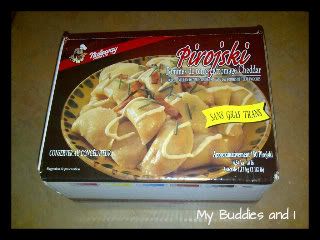 I wanted a good size one and I found one that was perfect. I stuffed it full of crumpled newspaper to make it sturdier and taped it closed. Then I took a piece of cardboard and cut it to size for the roof. I folded it into a triangle shape and taped it to the top of the box.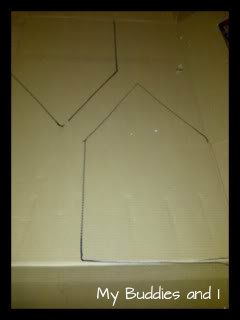 I then cut two end pieces that were the size of the house and roof together.
I taped one end onto the house and stuffed the roof with newspaper. Then I attached the other side.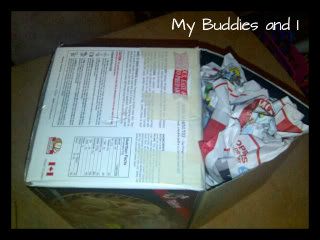 I cut a coarser grit of sandpaper sheet to fit the house
.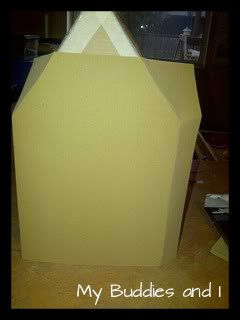 I covered the roof and sides of the house with sandpaper. (Be careful when spreading your glue, I used white glue to attach the sandpaper. Spread it THIN to avoid soaking the sandpaper, which creates wrinkles. I used a foam brush to spread the glue more thinly and evenly than it is in this picture!)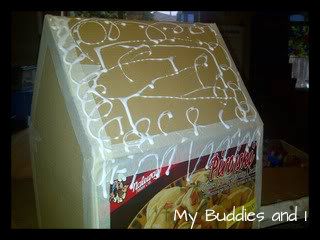 I took a glue gun and glued every seam along the house so that my buddies wouldn't be tempted to pick it apart
.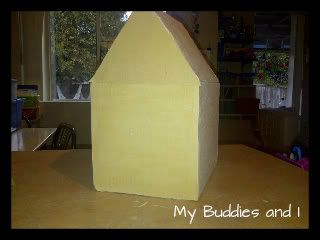 Once satisfied with the house, I turned my attention to the accessories. I used red, white, green and sparkly felt to make assorted candies, lollipops, candy canes, windows, doors and some Christmas trees. I used puffy paint to add details to the felt.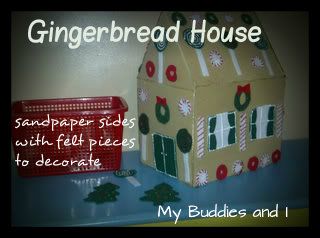 The felt pieces stick onto the sandpaper easily and can be rearranged multiple times. This house and accessories will be packed away to use year after year!
Shared this idea on
The Sunday Showcase
!