Sandwiches are beautiful, sandwiches are fine!
My buddies love sandwiches and we make them all the time!
I love the simple enthusiasm of preschoolers and toddlers. Who else would cheer when you told them you were having sandwiches for lunch? And then cheer louder when you said they were making their own? (No one in my family, that's for sure.)
Thankfully, my buddies are another story. I could probably serve, or just supply the materials for them to make their own sandwiches EVERY DAY and they would be happy. (But I would feel incredibly guilty - anything that easy just can't be right!)
When we make our sandwiches, we often use whole wheat bread and skip the butter/margarine. Peanut butter is the all-time favourite, along with its sidekick, jelly. Or sometimes jam, or maybe sliced bananas.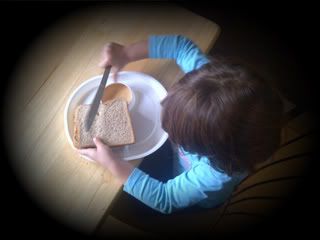 I give each one of my buddies a couple of slices of bread on a plate and provide the table knife. I put a dollop of peanut butter on their bread and let them spread it. It takes a lot of practice to learn to spread well. Besides being healthier, one of the nice things about whole wheat bread is that it doesn't tear apart as easily as soft, white bread. After they get their peanut butter spread, I will give them the jelly or jam. They can even use their knives to slice their own banana.
Although peanut butter is the favourite, I have also let them make sandwiches with sliced meats, cheese, lettuce, tuna, or scrambled eggs. Hot dog buns can be used to make other things beside typical hot dogs, too. We use scrambled eggs to make "egg dogs" and peanut butter and a long slice of banana make "banana dogs".
I'm sure my buddies think the sandwiches taste even better when they make them themselves! (Now, if only my husband thought the same...)