I was hugely inspired by Deborah at
Teach Preschool
with her magnetic bows on cookie sheets. Most of my buddies are a little younger than the children she works with, but I knew they, too would enjoy placing magnetic bows on presents. At first, I was going to wrap some boxes and put magnets on them too. But while shopping at the dollar store for my bows and some more magnets, I saw some fancy Christmas tins that would be PERFECT! I used a hot glue gun to secure the magnets to the back of the bows
.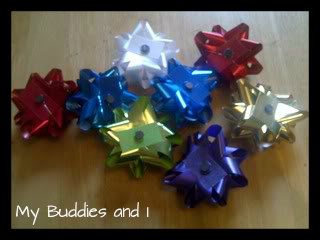 Then I filled the tins I bought with some little Christmas decorations and some tissue paper. I placed them under my buddies' Christmas tree for them to discover Monday morning.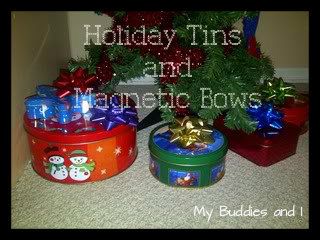 My buddies played for hours opening presents, giving presents to their friends, stuffing the tins with different items and changing the bows around. This activity was a hit and I will definitely do it again next year! And the tins will be great to store all the little tree ornaments, too!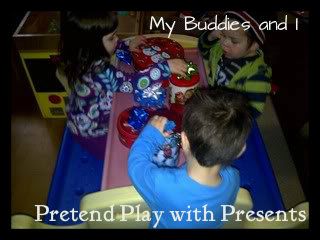 If I had had more time, I am sure I could have had parents donate tins from home. After I put the tins under the tree, I kept finding more that I could add to the collection. Empty cookie and coffee tins were sitting in my cupboard, just waiting for my buddies!