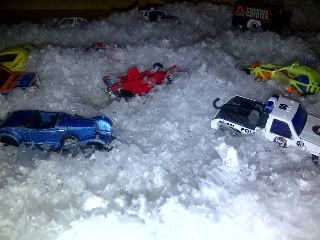 We don't often get snow that lasts any length of time where I live. That means that my buddies don't get much of a chance to play in the real stuff.
For many years, I substituted the "clean mud" made from toilet tissue and grated ivory snow and water as our snow. It was ok, a little messy, which wasn't a problem. But it also sometimes irritated my buddies' hands if they played for very long or had extra sensitive skin.
This weekend I was at my favourite dollar store and I purchased two bags of shredded plastic "decorative snow". They were $2 each and they nicely covered my train table. I put some cars in the snow and set some buckets and a few shovels nearby. I expected my buddies to drive in the snow - cars are a popular toy at my house. Instead, they spent most of their time filling and dumping the pails, piling and squishing the snow. They were having a blast. After a while I added some styrofoam balls as snowballs and they were a big hit, too.
I want to get them outside this afternoon and I think I will have to put this away as they nap or they won't want to go outside!