My buddies, like most young children, love to help. They like to do the "real" things that they see adults do every day. We are often told "Play is a child's work." This reminds us that children learn best through play and that learning this way should be the primary goal. I agree. But my buddies get an incredible sense of satisfaction and pride in doing anything that I do. If they see me cleaning, they want to do it too. If I only need one helper, they ALL want to be that one. I'll let you in on a secret - My buddies don't know it's work!
If it's fun, if they choose to do it, it's PLAY!
So, work (what we consider work), to them, is play.
Of course, it takes longer with them helping, and often I have to go over and re-clean the things they have cleaned (but not when they are looking), but
it is just so worth the extra time
!
When I started considering cleaning as a learning activity that my buddies all enjoy, I wanted to make sure I had the right materials on hand to make it easy for them to be successful. I have an ample amount of kid-friendly cleaning supplies. I have dozens of scrubby sponges, cleaning rags, mild cleansers, a built-in vac that collapses down to the perfect size, and real brooms that I have cut down to make them buddy size.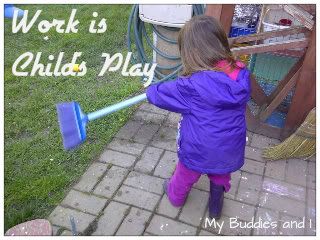 Some of the things my buddies love to help with are: vacuuming, sweeping, wiping cupboard doors and walls, scrubbing floors, cleaning windows and folding our little hand drying towels. Allowing them to do these activities with me gives them a sense of responsibility for their surroundings and pride in their accomplishments. I'm proud of their accomplishments, too!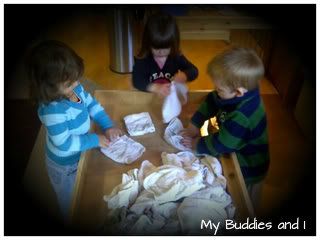 Things are not always in perfect, immaculate order, but things get done and we have fun doing them. I am certainly not going to inform them that they are working! And wouldn't it be great
if nobody ever told them
?