I thought I would take advantage of the popularity of some famous children's characters and help my buddies practice letters and numbers. I started out with a couple of cute snack containers from the dollar store. Opening the lid of the container opens the mouth so I thought it would be fun to feed the characters. I used Sharpie paint pens to print letters and numbers onto glow-in-the-dark pebbles from another project.
To play the games, I hand out a handful of pebbles to each of my buddies. Taking turns, they can feed Oscar or Cookie with one of their pebbles. This game is adaptable to the skill levels of the players and you can provide as much or as little assistance as is required to each child. For younger children, you might name the letter for the child and have them repeat it after, older children may name the letter themselves, asking for help if needed, for advanced players they may give the sound for the letter or name a word that begins with the letter. To make it less competitive, the group could be asked to name each letter.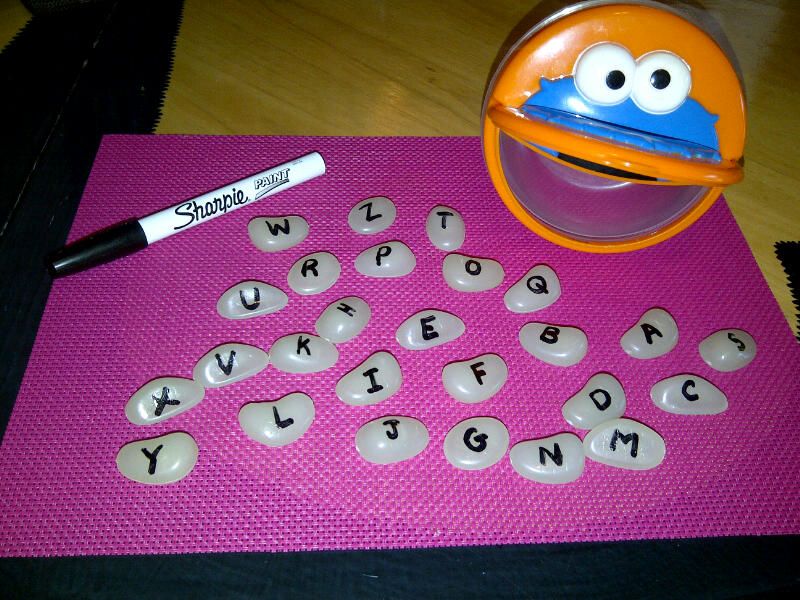 The total cost both of these games was less than $5, not including the Sharpie which will get used for other things. The thing I like best about these games is the ease of replacing any pieces that get lost. Knowing my buddies, there's a pretty good chance that one or two might just possibly inexplicably disappear. But that's okay, I'm covered!