It just wouldn't be a party without some fun Halloween food. Last year, I had fun making mummies from spooky green candy melts. My buddies had a fun treat to take home.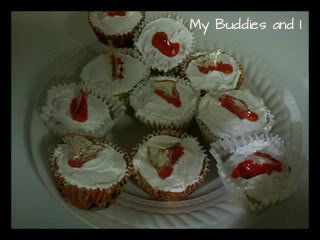 My sister and I made these broken glass cupcakes for my nephew to take to school. They looked so cool! You can find out how to make them here:
Broken Glass Cupcakes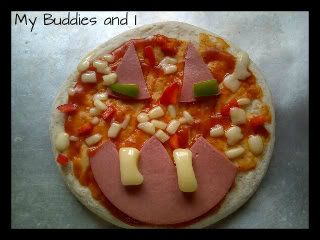 For lunch, my buddies and I had some fun making Jack O' Lantern Pizzas. I provided my buddies with pizza shells, sauce, cheese bits, green pepper and bologna cut into triangles and mouth shapes. They decorated their pizza and then we baked them.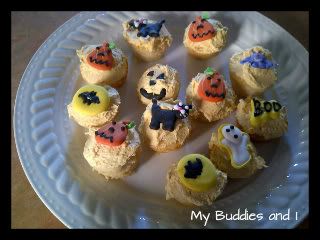 These cupcakes decorated with halloween themed tops were a hit with my buddies, too.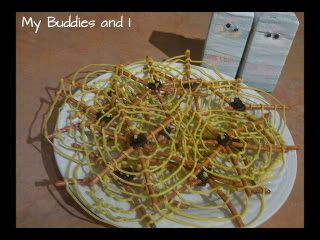 We also made these awesome spider webs. I know they look really difficult but really aren't that hard to make. You can find the instructions here.
Spider Web Snack
And see the mummies in the back? Those are juice boxes! My inspiration came from here:
Juice Box Mummies
I used crepe paper streamers cut into thin
strips instead of duct tape.
Are you inspired yet? For more frighteningly fun and ghoulishly good Halloween food ideas, look here!
Halloween Food Ideas