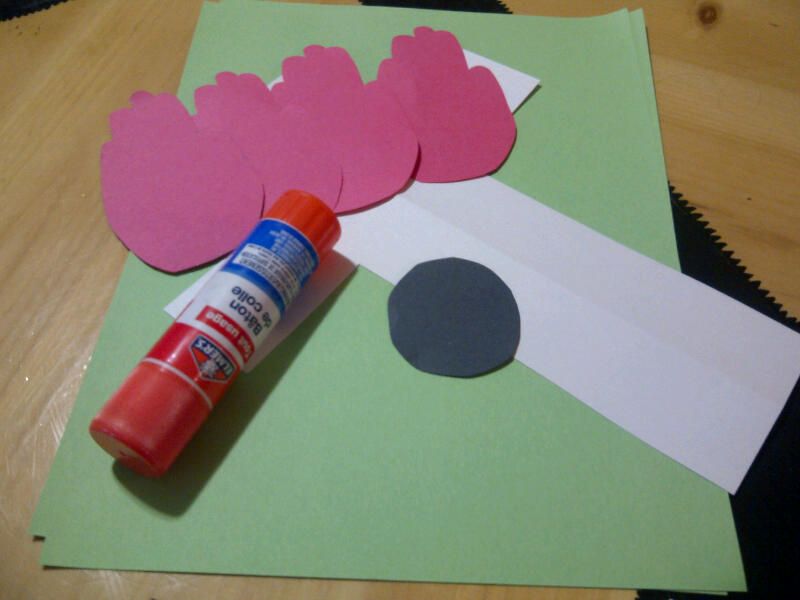 November 11 is recognized as Remembrance Day in Canada and the poppy is a familiar emblem. Many Canadians will wear small poppies pinned to their jackets or clothing in the month of November as a gesture of remembrance of those who fought in the war.
For this day, I had a project in mind for my buddies. As a craft, in my mind, it would look pretty much like this:
See the white cross, the red construction paper hands, the green background and black centre? Yes, a perfect handprint poppy on a white cross. My buddies' parents would be impressed for sure!
Now, I tend to do more art than crafts with my buddies. When working with young children, crafting requires a great deal of my assistance and allows very little freedom for the children. I am not against craft projects at all, though and feel they offer their own opportunities for learning. They are not to be confused with art, though.
We began with a discussion about poppies. I was surprised that my buddies didn't really know what a poppy was or what it looked like. Unfortunately, when I went to retrieve the poppy I had pinned on my jacket, it was lost, as often happens with these poppies. I was able to find a large number of poppy images on the internet, so we had inspiration for our project. Hooray for the internet!
We started out with tracings of our hands. Handprint projects are always popular with parents, so they are always a good place to start. I traced each child's hand on red construction paper and cut out four copies. I also cut out the white cross and black centres. My buddies are three years of age and younger so I did the cutting and provided them the pre-cut shapes I also, as is common with CRAFT projects, provided a model of how their project could look.
This is where I broke from traditional craft procedure.
I used the word could rather than should because it was really up to my buddies to decide how their picture would look. Should implies that if it does not look like the model it is wrong. Could is just a suggestion, one possible outcome if they chose to follow it.
And then it was up to my buddies. Having looked at a variety of images of poppies, and seen a model, they took their materials and began to paste their picture as they saw fit. If I had wanted to keep it strictly as a craft project, I would have been sitting next to my buddies directing and correcting their placement of the pieces, perhaps even removing and replacing pieces placed wrong. In the end, it would become more of my project than my buddies', and wouldn't have involved much creativity or enjoyment. While our project still couldn't be considered "art" in its truest sense, it became a nice compromise between the two. My buddies took their time, spreading glue and carefully placing the cut outs where they liked on the paper. They didn't need or desire my assistance, they enjoyed themselves and were pleased with their projects.
So, when completed, some of my buddies projects looked a little different from my vision. But, you know what? I liked their visions better than mine.