These pretty little ornaments are a multi-step procedure. I love projects like these where we have to be patient before we see the results of our work and they end up so fabulous! (I hope that this teaches patience and the reward is worth the wait.)
For this project, I started by giving my buddies each a sheet of glue covered wax paper and squares of yellow and blue tissue. I had expected my buddies to overlap the colours and their trees to turn out to be mostly green. Not surprisingly, my buddies came up with their own ideas and kept the colours mostly apart, and the colours didn't really mix anyway. My buddies are so smart! After the glue had dried on the tissue and wax paper, the next step was to glue popsicle sticks into a triangle shape. We used these triangles as a pattern and cut out triangles from the tissue covered wax paper. Their wax paper was big enough to cut two triangles from, so they had two trees to decorate.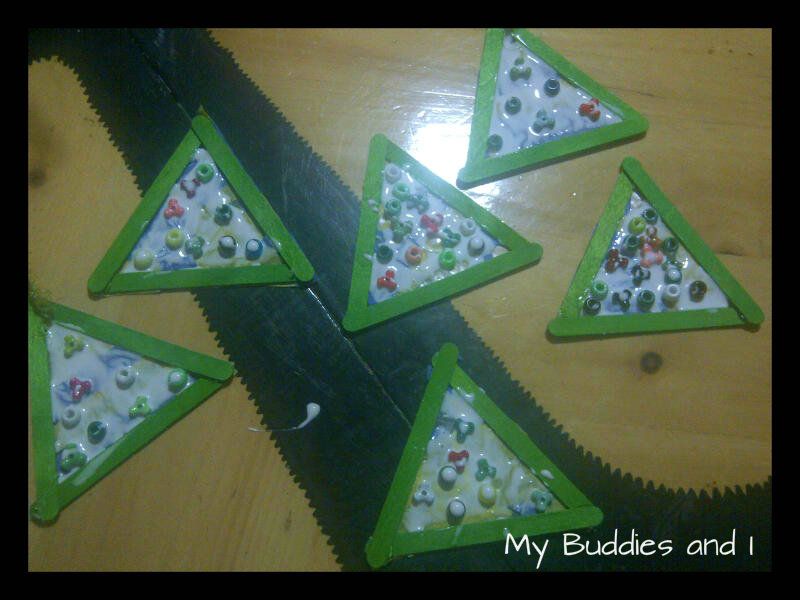 Glue covers the wax paper and tissue and beads are added to decorate.
Again we waited for glue to dry. Then I covered the tissue with white glue, keeping it inside the popsicle sticks. I provided assorted coloured beads for my buddies to decorate their trees. When the glue was dry, it made a lovely clear finish on the trees. Some of my buddies used a little glitter glue on the popsicle sticks, too. When the glue had dried for the last time, I used my hot glue gun to add a little trunk at the bottom and pipe cleaners to the back of the tree for hanging. They look fabulous hanging on our door!