Continuing in my series of the ABC's of Home Daycare, here are letters F - J. If you missed A-E, you can read it
here
.
F is for food.
Not all daycares provide meals and snacks but doing so provides a wonderful opportunity to teach children about nutrition and help them form healthy habits that can last a lifetime. If you choose not to provide food regularly, you can still consider incorporating the occasional cooking activity.
You can use a story book to inspire cooking activities:
Read it and Cook it by Teach Preschool
Kids would love making these simple smoothies that you can adapt to use the ingredients you have on hand:
Smoothies by Housing a Forest
This dehydrated fruit sounds delicious!
Dehydrated Snacks by Housing a Forest
Fruit Leather by Housing a Forest
I think these would be fun to make AND eat:
Yogurt Dots by Housing a Forest
G is for Germs.
Working with kids means a constant battle with germs. There is a lot of cleaning and disinfecting that goes on to keep everyone healthy. It helps to get the kids on board in keeping the environment clean, too. Give them a cloth and let them help wipe things but be sure to use a child-safe cleaner or plain water for their cleaning. You can always sanitize it when they're done!
Keeping your enviroment clean and sanitized is half the battle. The other half is teaching the children proper handwashing technique. I use a cute flannel story to teach the reason for handwashing in a simple and fun way.
Two Little Hands Felt Story
And to really help that lesson sink in, try this idea:
Berenstein Bears and Sick Days by Enchanted Homeschooling Mom
H is for Humour.
I think a sense of humour is essential in the care of children. If you can't laugh at things, you might be in for a hard time. Be silly, laugh a little or better yet, laugh a lot. Don't believe me? Read what Kidshealth.org has to say about
children and humour
.
I is for Injuries.
Accidents happen, and most, thankfully, are not too serious. It is best to be prepared. Choose a First Aid course to learn how to take care of injuries and keep a well stocked first aid kit in an accessible place. For minor injuries like scrapes and bruises, you can both comfort and distract a child from their pain using homemade "Boo Boo Bear". Simply take a part a seam of a small stuffed bear and remove some of the stuffing. Replace the stuffing with an ice pack and sew the seam closed. Keep the bear in the freezer until needed. The fabric of the bear provides insulation against the extreme cold of the ice pack, and the teddy bear is a friendly distraction from their injury!
J is for Jingles.
Ever had a song get stuck in your head? The great thing about this is that the stickable quality works for kids, too. That's why songs work so well as teaching tools. A favourite teaching technique is to sing new words to old tunes. For example, as an introduction song, with the tune of "Mary Had a Little Lamb" you could use each child's name and sing: "Cindy is here today, here today, here today, Cindy is here today, so let's say hi" This is what is commonly referred to as a piggy back song. Once you get started creating your own piggyback songs, you will find you have a song for nearly every situation. Eventually, you may find yourself entertaining your grown up dinner guests one day. But they might look at you strangely until your husband tells them that you are a home daycare provider. Not that I would know, of course.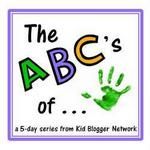 As you probably know, this post is part of a series called "The ABC's of...". More wonderful KBN bloggers have contributed more amazing posts on more fabulous topics. Grab a coffee, settle in, and read them here: