K is for Kindness
. The world needs more kindness. Working with children, and especially with young children, you are in the unique position to put more kindness into the world. When we model kindness, the children pick up on it and carry it with them. If you'd like to take an even more direct approach to encourage kindness, you'll find some inspiration here:
Acts of Random Kindness by Kindergarten Basics
Thinking of Those in Need by Enchanted Homeschooling Mom
L is for Lemons
. Embrace them! Lemons are okay. Not every activity that you do with kids is going to work out as you'd expect. That is not a reason not to try them! Even the best, and maybe
especially
the best (because they aren't afraid to explore uncharted territory) , teachers have activities that flop. They are part of learning. I've had my share of lemons and I hope you will too, because it means you
tried something new.
Still hesitant? Don't believe me? See how the magnificent Deborah of Teach Preschool helped turn her activity lemon into lemonade:
Painting with Popsicles by Teach Preschool
M is for Must-Haves!
Other than toys, which I will cover with the letter T, there are many items I have acquired that make my life easier. Check with your licensing agency to see what items you are required to have.
storage (you'll want a place to keep all the toys, materials and supplies that you need)
baby equipment (high chair, crib or pac n play, stroller)
nap mats or cots, bedding
child size table and chairs
lockers or something similar for storing backpacks, shoes and belongings
books (you can always borrow from the library)
art and craft materials (at least basics to begin with: paper, crayons, scissors, glue)
internet access! (all the ideas for activities are there somewhere!)
Of the list above, the art and craft materials are the only consumable item. You can go through a lot of materials when you work with children. Teachers and daycare providers LOVE getting these items as much as the kids do, so if you're the parent of a child in school, preschool or daycare, I'd encourage you to consider donating any of these items.
Kindergarten Basics
has a list of the
top stocking stuffers for teachers
, and, not surprisingly, most of the items fall into the art and craft material category.
N is for Nature.
Nature is a necessity. Get outside often and explore,and bring some natural items indoors for play, too. See how some of my blog friends explore nature with kids:
Outdoor Safety and Adventure by Teach Preschool
Nature Shadow Boxes by Teach Preschool
Sensory Nature Walk by The Pleasantest Thing
Squirrel Play by The Pleasantest Thing
O is for Organized
. I am most happy when I am most organized. The more organized my space and time are, the easier my job is. I like to make my space and time do as much of the work as possible. I arrange my materials and my furniture in a way that works best for the children and for me. January and September are my big organizing periods. Sometimes I just like to rearrange things for a fresh look. One day I will post about my indoor organization. For now, I will share how I like to arrange my yard into play areas, and how
rearranging makes everything old new again
.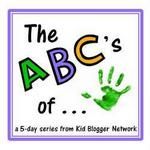 This is my 3rd post in the ABC's of Home Daycare. I hope you've enjoyed my posts so far. Once again, I am sharing links to even more fabulous ABC posts by some terrific KBN bloggers. Settle in and enjoy them all!