P is for Pretend. And Play. Pretend Play
.
This play comes so naturally to children and is so important for their development.
Communication Skills in Preschool by Teach Preschool
Outdoor Cafe by Teach Preschool
Pretend Elevator by Teach Preschool
Pretend Library by The Pleasantest Thing
Lighthouse Pretend Play by The Pleasantest Thing
Play House by Kindergarten Basics
Q is for Quality Care.

Every child deserves quality care. My personal opinion is that the nature of home daycare allows us to provide an atmosphere that cannot be surpassed by any institutional setting. Our small group sizes, home settings and close relationships to the children AND their families are just a few of the things that give home daycares the advantage for providing quality care. Other things, such as our training as care providers, can vary greatly. Consider training as a way to equip yourself with some of the most important tools of your profession. It is investing in yourself in a way that will pay off for you and the children in your care.
R is for Rules. My rule about rules is "The simpler, the better." I have three basic rules that govern the children's behaviour.
Be Safe, Be Kind, Be Responsible.
Almost every scenario can be covered within these three rules. Best of all, because the rules are not concrete and specific, they can be adapted when needed without breaking the rules. For example, I don't allow running in the house, generally, because it's not SAFE. But when the weather forces us inside and we need to burn off some energy, I might move all furniture aside and open up space to make it SAFE to do just that! 
Deborah from Teach Preschool also believes in simple rules. Here's what she has to say about Setting Rules in the Preschool Classroom.
S is for Self-Care.

I cannot stress this enough! Caring for ourselves does not seem to come naturally to people in the child care profession, yet it is so critical. If you are really unsure of how to go about caring for yourself, consider taking the class I wrote for Child Care Lounge: Caring for Yourself as a Child Care Provider.
Not a daycare provider? Don't want to take a course right now? No problem. Kindergarten Basics has some excellent ideas you can use right now: Mom's Need Me Time, Too
T is for Toys! Sometimes I think I have as much fun with the toys as they do. I consider it a job perk.
My favourites are the kid's favourites. They are the ones that my kids ask for, the ones they don't get tired of, and the ones that don't break easily.
Here's a list of my top ten favourite toys.
1. The Jumping Horse - I just LOVE this horse, it is a good durable one, my children use it every single day. It is a good place for them to go and jump a bit and just let off some steam. I have seen kids use it to release tension and come off just a little calmer.
2. The Play Kitchen - I have both an outdoor play kitchen and an indoor one. Both, along with the accompanying pots, pans, bowls, food, and other accessories are very popular.
3. The Dollhouse - I have several play sets, including a garage, a farm, an airport, and train set. The dollhouse, however has proven to be the most popular over the years, with both boys and girls, although they play differently with it.
4. Art Materials - All kinds of art materials. I love the smell of new packages of crayons, pencil crayons, and even Play Doh brand play dough. And kids love these things, too.
5. Dolls and Clothes - Kids love baby dolls. I love seeing the nurturing side that baby dolls bring out in child
ren. I think it gives them a chance to practice those skills and incorporate them into their character.
6. Cars and Trucks - This is another favourite of boys and girls alike. I always try to have a few little cars and trucks around no matter what the current theme might be.
7. Balls - All kinds. Kids love to throw, catch and knock things down. Lots of different games can be played with a ball, too. They're great for practicing hand-eye co-ordination, too.
8. Scarves - I don't have the fancy playsilks that I've seen. But my little collection is a favourite play item that is used in a variety of ways. They are dresses, capes and baby blankets, too!
9. Musical Instruments - Drums, keyboards, shakers, triangles, cymbals, ALL OF THEM. Loved by them, loved by me. They're great for keeping kids quiet, too. Oh, except for the MUSIC!
10. Boxes and Blankets - For creating forts, tents, cars, boats and dozens of other things!
We all have our favourites when it comes to toys. Below is a link to Teach Preschools Favourites AND as a bonus, she has a link up of other's favourites as well!
Teach Preschool's Top Ten Toys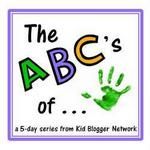 This is my fourth post in a 5 part series on Home Daycare. Here are some other excellent posts from the series by some top notch bloggers!