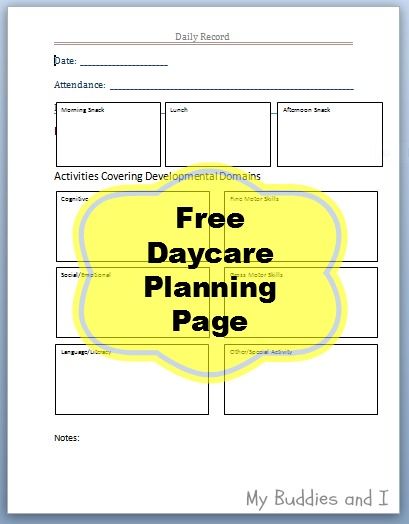 I'm pretty excited to be sharing this printable with you today. It's the very first printable I have created and I hope it's one of many to come. You can download your copy here: Printable Daycare Planner Page.
This page can be used in two ways. You can use this page to plan your days out in advance, but it would also make a great record log. With the trend towards more and more documentation, keeping a log like this will give quick and easy confirmation that the children in your care have been provided with activities that cover all the developmental domains. You can also keep track of a general attendance, meals and snacks, and there is even space to record special activities like a visitor, or a celebration, or something of particular interest. At the bottom of the page, there is a space for notes. I will be using this space to keep track of minor incidences in daycare that don't require full reports. I like the idea that I will be able to look back at our past activities easily and the main focus will be positive and not just a log book of the occasional unfortunate incidence.
If you need more information on developmental domains and the play activities involved for each, I will post about that topic later this week, along with another printable!