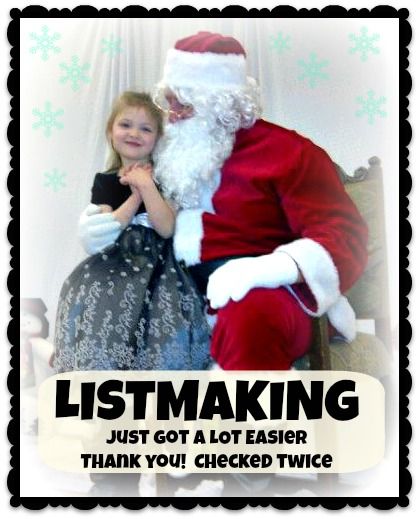 It's that time of year again. Time for me to roll my eyes every time someone mentions Christmas. Or Christmas shopping. But not this year! This year I'm pretty excited because I have been given the opportunity to share something that is going to make Christmas shopping a lot easier. Maybe even a WHOLE LOT easier for some lucky person!
Did you see the pretty little girl in the photo above? Well, that's one of my grandchildren. Shopping for her and her brother is just so much fun! It's easy to go overboard and get them things they don't need and things they already have! Not this year though, because this year we are using CheckedTwice!
CheckedTwice
is a free online gift registry for families and friends to create and collaborate on holiday and special occasion wishlists – making gift-giving simple, organized, and fun. CheckedTwice makes it easy to add gift ideas from anywhere, create and manage lists for younger children, share gift giving across family, friends, and other groups, and more. And no spoilers here – CheckedTwice won't reveal what's been purchased from your registry, so the joy and surprise of gift-giving stays intact! When less time is spent shopping and the gifts are guaranteed to please, there's more time to celebrate the season with friends and family. Happy Gifting! This could very well be the best Christmas ever! And guess what?
One lucky winner will receive $500 to help you get started on your holiday shopping!
CheckedTwice
is giving away $500 to help you get started on your holiday shopping! Giveaway ends November 18th at 8 pm ET, open to residents of US and Canada, ages 18+. Use the Rafflecopter form at the bottom of the page to enter. Good luck!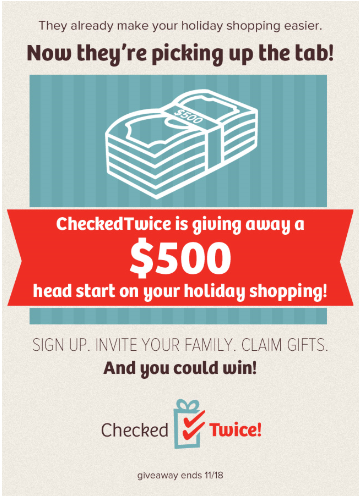 Enter below: