A few weeks ago, I was contacted by a lovely lady named
Heather Von St. James
. Heather is a
survivor
of a rare form of cancer called mesothelioma. I had heard of mesothelioma but I knew nothing about it. It was Heather's hope that I could be willing to help spread her story and raise awareness of the dangers of asbestos exposure. I read
Heather's story
and decided that though this wasn't my usual blog material, I could not turn away from sharing this information.
My Buddies and I
is primarily for children, or, rather, for the people who care for them. I write about children's crafts, and recipes, about childcare and keeping kids healthy. As I read about mesothelioma and asbestos I came to realize that there was a very real danger that many people, people like myself, were very likely unaware of. If I were in a position to help make people aware, it was something I felt I had to do.
April 1 -7 is Asbestos Awareness week and this post is about helping people protect themselves and their children from asbestos exposure, which is the main cause of mesothelioma.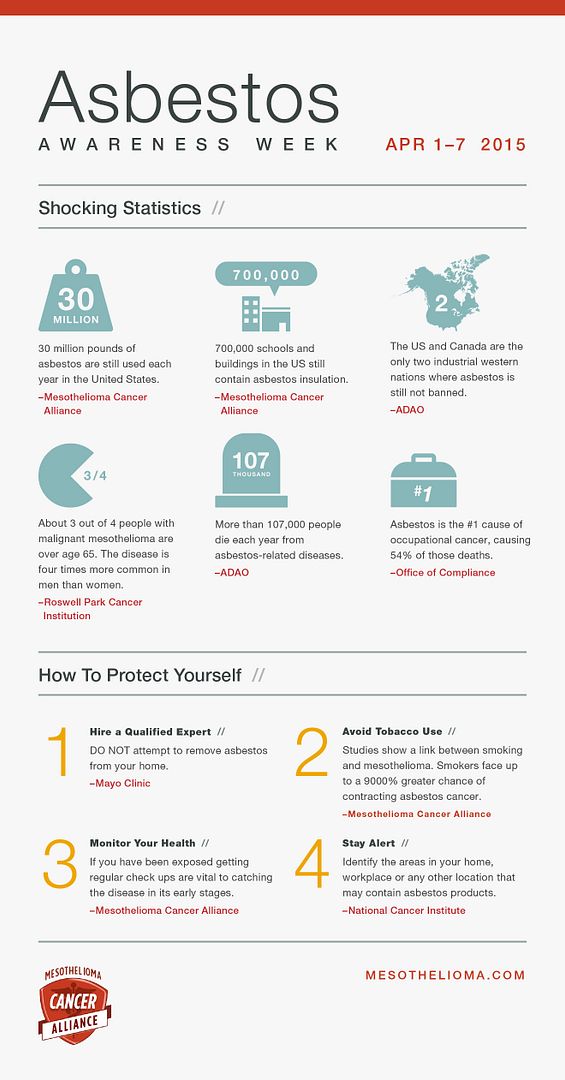 Did you think that asbestos was an old problem, something that we didn't have to worry about today unless we lived in an older home or worked in an older building? I did. Then I read that
the U.S. and Canada are the only two industrialized countries where asbestos is still not banned
. WHAT? So this is a real danger, a threat to all of us? What can we do? Where are the dangers?
Where might asbestos be hiding? According to the
EPA, among the asbestos-containing products that are not banned are:
clothing, floor tile, roofing felt, cement shingles, gaskets and roof coatings. Click on the link to see the full list. I'm still in shock that these things are still around.
How do we protect ourselves? This is a link to the EPA's recommendations to
Protect Your Family From Asbestos Exposure.
We have to be especially careful with home renovations.
The World Health Organization is reviewing it's policies and considering putting the asbestos industry on its list of entities with which it will not engage. You can read about that at
Right On Canada.
If you would like to take action towards having asbestos banned in the U.S you can go here:
I've learned a lot in the process of writing this post, but I am not claiming to know very much at all. If you would like to share your experience or knowledge on this topic with me, I'm open to learning. I wish all you happiness and good health!