We have often used salt trays as a fun mark making activity. I thought I would change it just a little and provide my buddies with coloured salt with a slightly different texture. I took about 2 cups of salt, and added about a teaspoon of liquid watercolours and a tablespoon of flour. The flour takes away a little of the grittiness of the salt and gives it a texture quite pleasing to touch.
They were seated at the table and I gave them each a tray with the yellow salt on it. They made some marks, but mostly they seemed intrigued with the feel of the coloured salt on their hands and they smoothed and spread it around for a long time before beginning to use their fingers to make marks. There were lots of spirals and circles on their trays.
They were still busy with this activity when it came time for lunch, so I transferred the salt onto one of my classroom tables. It has a nice ridge around the edge which helps to keep the mess to a minimum. I added some new accessories. I like containers with twist off lids because my buddies must use both hands working together to open or close them. My paint cups are perfect for this. I added a funnel and a couple of scrapers, and a ladle and colander as well. They were keen to try out the new accessories.
The next day as we went out for a walk we came across workers at the park doing some maintenance work to a baseball diamond. I really believe in letting my buddies learn from the things that go on in our neighbourhood, so we asked what they were doing. One of the men explained about the tools they were using. They had tools that looked like rakes but the actual name for them was lutes. After they spread the sand around with the bobcat and the lutes, the bobcat left and brought back another tool called a float. The men attached the float to the back of the bobcat and the bobcat dragged it around in circles around the field. I couldn't help but be reminded of my buddies' circles in the salt trays.
That afternoon, when they got up from nap, something else was waiting for them. I had removed the trays to make space and added a tractor and some other small vehicles. These things are always popular with my buddies so I wasn't suprised to see their excitement as they played with these. I wanted to encourage them to remember what we saw at the baseball diamond and play with the new information.
I had one more trick up my sleeves and surprised them when I added red lentils to the table the next morning. I like the two sizes of sensory materials and being able to mix them and then separate them again.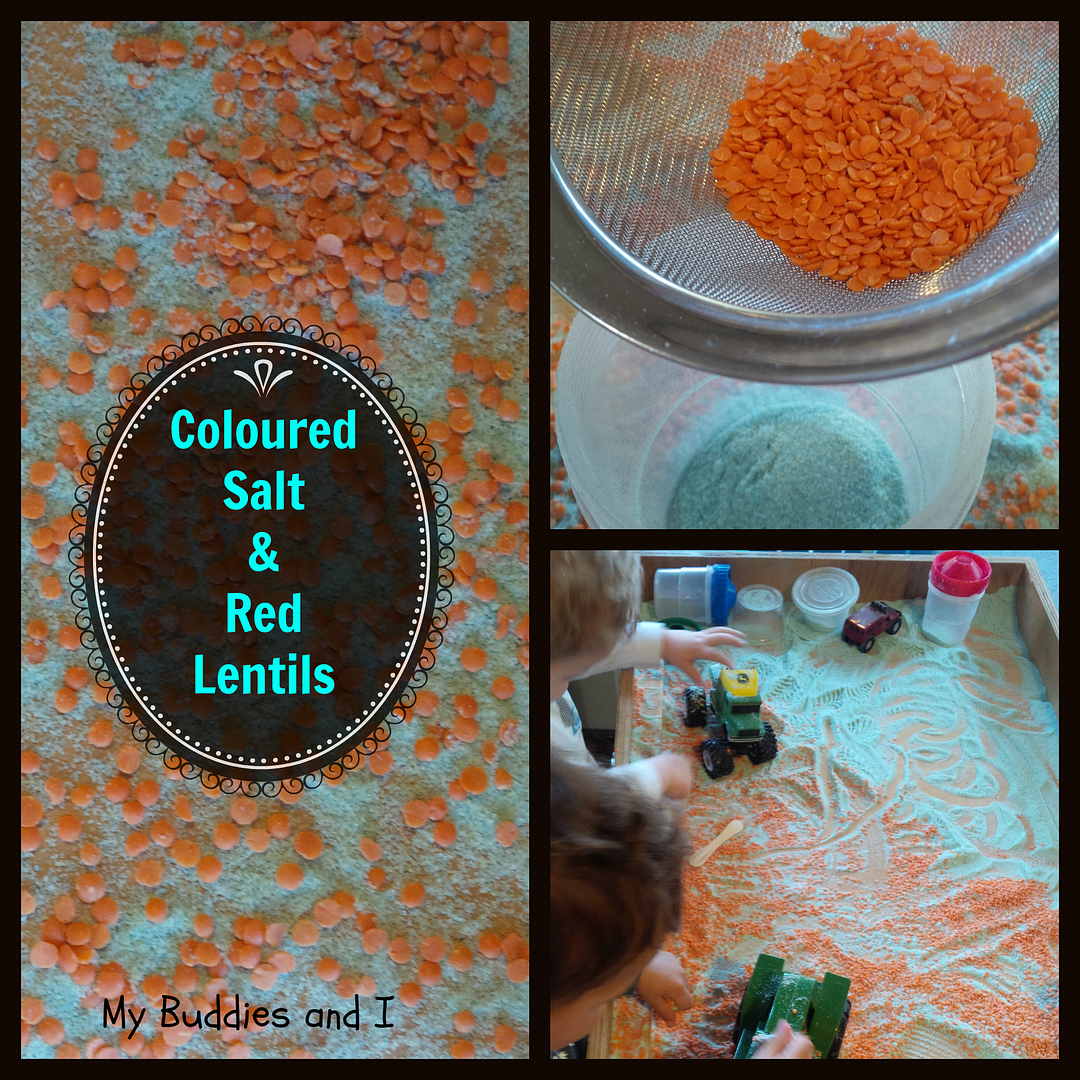 I know that we are not done with this material yet, but I don't know what we'll do next. I was thinking I might like to add an even larger material - like a larger bean, or perhaps I could transfer the activity to an outside table where I could give them a little water to see how it reacts. Giving them some playdough at the table would be interesting, they could see how the materials would get mixed with the playdough but would not be easy to separate. Or I might pack it away for use again sometime in the future. What would you do next?