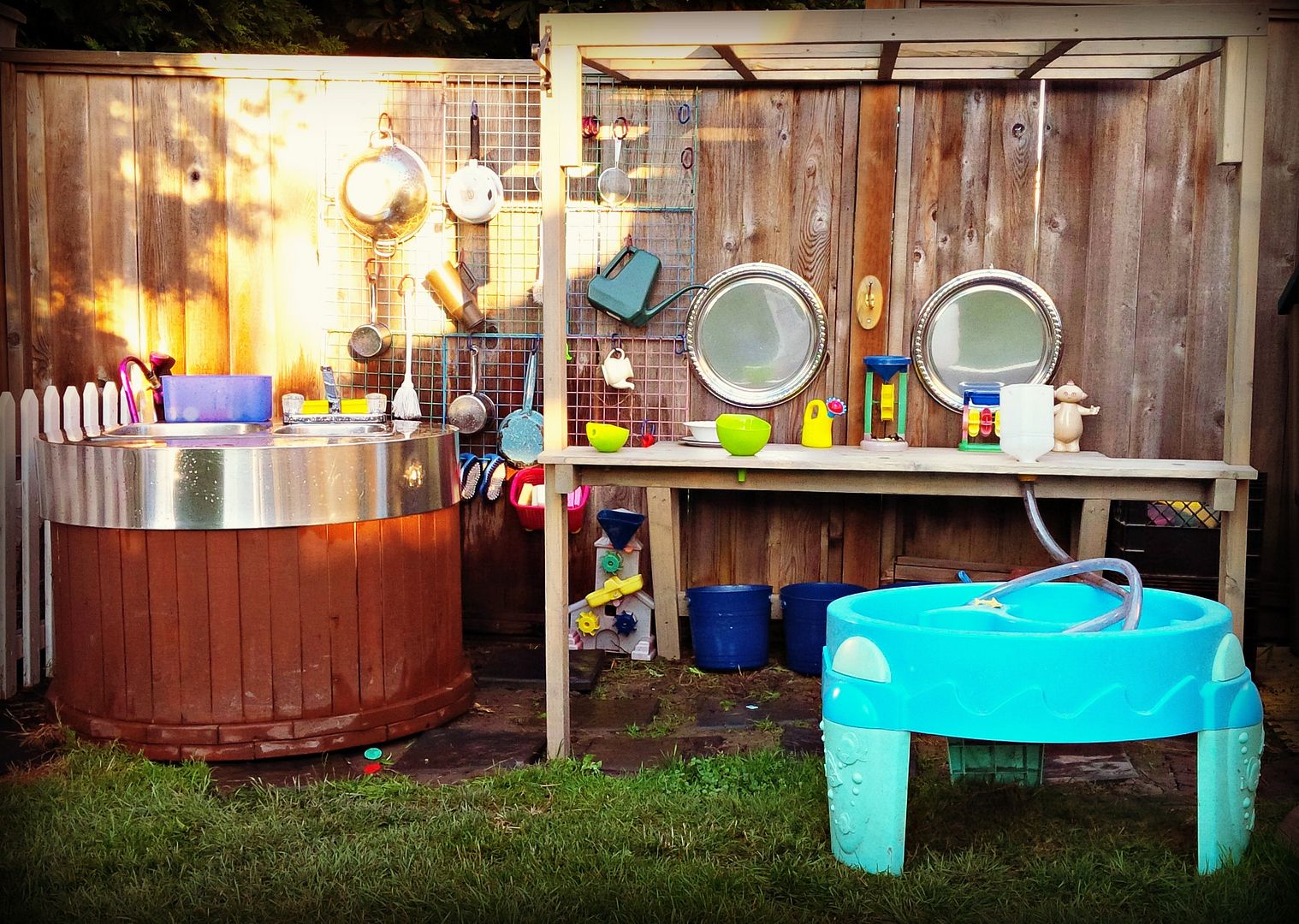 Last summer I convinced my husband to help me build one of my many, many dream projects. We had acquired a wonderful circular stainless steel sink and had held onto it for a number of years. Finally my husband built a base for it and connected it to water.
The sink was only part of the project I had in mind, though. I had seen some wonderful mud kitchens and was so inspired. I was hesitant to create just another mud kitchen, though... I had other ideas... I imagined more, I guess. We already had a kitchen in one of our play houses.
This is it. It's still a work in progress, and I have more that I want to add but this is where I am now.
I want to add at least one more row of the plastic pavers in front of the area as it can get quite muddy after a lot of water play or after a good rain. The irish moss planted between the pavers hasn't grown as quickly as I'd hoped so I'm going to add more of it, or look for another plant to grow there.
The blue buckets are not the best for storage because they also hold water so I'm working on a better solution for those things. The biggest challenge I find in all my play areas is the rainy, wet weather. It turns much of my grass to mud and tends to collect in and on the toys. Late fall, winter and early spring can be really wet so it's a constant battle.
My plan now, is to create a few bins of accessories to allow the area to be used in a variety of ways. I want a bin with science tools like beakers and test tubes, a bin of extra water accessories, and maybe one or two with dramatic play props like puppets or restaurant play accessories. I can see a blanket being thrown over the front stand to make an awesome puppet theater! We already have props for an ice-cream store or coffee shop, too.
Overall, I am very pleased with how this project turned out and I am ready to turn my attention to the next!